At the May 7 meeting, Dan Duncan from Pinnacle Rarities spoke to the club about the "rare coin market and related topics."
There was a TLCC Special Meeting at the PNNA Convention, April 13, 2013 at noon at the Tukwila Community Center in Tukwila, WA. Dave Schmidt introduced the meeting, and Eric Holcomb presented "Best of TLCC Show & Tell," covering about three dozen items from the years 2002 to 2012.
At the April 2 meeting, Brian Wagner was the speaker, giving members and guests some "tips on great cent finds."
At the March 5 meeting, longtime club member Frank Benedict spoke about "Collecting Coins - Start to Finish."
The February 5 meeting program was "The History and Collecting of State Tax Tokens" by club vice president Rick Schulz.

The January 8 meeting featured guest speaker Dick Billings (shown in photo at left) speaking on the topic of "Notgeld," a form of "emergency money" privately issued in Germany during the 1920s in many varieties and materials including paper, metal and porcelain. See the sample exhibit items (then select January 2013) for more photos.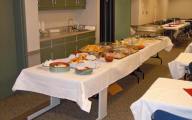 The December 4, 2012 meeting featured the annual holiday party (Holiday Extravaganza by Mike and Bonnie Zagorin - photo at right); also raffle drawings and club elections for two board members. See the club officers list.
The November 6, 2012 meeting featured a member "swap meet" (where members could bring numismatic items to buy, sell or trade).
At the October 2, 2012 meeting, Rick Schulz spoke about "Collecting Canadian Minor Coinage." Rick is an experienced Canadian collector, and has attended coin conventions in Canada.
At the September 4, 2012 meeting, Dave Schmidt spoke about "Norse American Medals," which is one of Dave's favorite topics!

At the August 7, 2012 meeting, guest speaker Bill McKivor (photo at left) spoke about "British tokens and medals," as well as items from the American Colonial period. There was no TLCC meeting in July.
The June 5, 2012 meeting program was "Mint Errors," presented by Todd Hughes. We also had our usual raffles and auction, and solar viewers were available for a rare astronomical event ... the "transit" of Venus across the Sun! (And, yes, there were enough sun breaks to witness the event!)
The May 1, 2012 program was the Show & Tell that we didn't have in April. Attendees were asked to bring their World's Fair memorabilia along with memories of experiences at the 1962 Seattle World's Fair or any other World's Fair. Any World's Fair artifact (even non-numismatic) was welcome.
The April 3, 2012 display (Show & Tell) topic was "Seattle World's Fair (50th anniversary)," and the speaker was Steve Fisher from the Federal Reserve Bank. However, because there wasn't actually time for the Show & Tell items, the club is doing it again in May (see below).
See sample exhibit items from TLCC regular meetings.
These are items members bring each month for "show & tell."
See previous TLCC news headlines. | See the TLCC memorabilia catalog.