Larry King - Apr. 4, 1944 - Oct. 19, 2020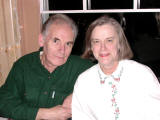 Larry was a vital part of the TLCC for decades, serving on the board and in other capacities including raffle chairman and coin show setup. The photo at left, taken at the 2004 holiday banquet, shows Larry and his partner Maxine Gruber, who remains an active part of the club.
Norm Mikat - May 12, 2020

TLCC past president and life member Norm Mikat was instrumental in assembling collections of TLCC, TCC and LCCC related memorabilia, both for the club's own collection and for Norm's personal collection (which has been sold). See the TLCC memorabilia catalog.